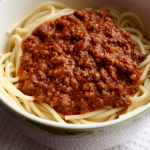 Meat Sauce
2018-03-29 15:16:31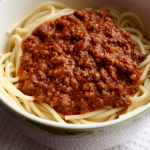 Nutrition Facts
Amount Per Serving
* Percent Daily Values are based on a 2,000 calorie diet. Your Daily Values may be higher or lower depending on your calorie needs.
Ingredients
2 Tbs. olive oil
1 lb. ground beef
1 medium-large onion, diced
1 stalk celery, chopped
3 large cloves garlic, chopped fine
1 28-oz. can diced tomatoes
1 6-oz. can tomato paste
1½ cups water
2 tsp. dried oregano
Salt and pepper to taste
Instructions
Heat the olive oil in a large saucepan and sauté the onions, celery and garlic for about 5 minutes until soft but not browned.
Add the ground beef, breaking up large clumps, and saute until it is no longer pink.
Add the diced tomatoes, the tomato paste and the water (use the water to rinse out the tomato paste can so you get all the tomato paste that clings to the sides and bottom)
Add the oregano. Bring to a boil and simmer, covered, for about an hour, adding more water if the sauce is too thick.
Add salt and black pepper to taste.
NoMayo https://nomayo.us/