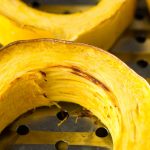 Spaghetti Squash
2018-02-27 16:19:25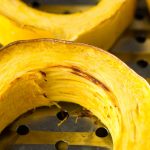 Nutrition Facts
Amount Per Serving
* Percent Daily Values are based on a 2,000 calorie diet. Your Daily Values may be higher or lower depending on your calorie needs.
Ingredients
Spaghetti Squash
Sauce
Salt
Instructions
Cut Spaghetti Squash
You can prick the squash a couple of times and then stick it in the microwave for 5 minutes to soften the skin, if you like, or just pick up your blade of choice and tell that squash who's in charge.
Cut 1/2″ off each end, then cut in half across the width.
Use a sharp knife to cut around the inside of the each half to get out the seeds and other various innards.
Cut further into rings if you'd like, but it's not necessary.
Salting Spaghetti Squash
Take the extra 15 minutes and salt the squash first. You can be really liberal with the salt, because you'll wipe it away before cooking, along with all the water that the salt draws out.
The heat from the oven really helps to get the best texture, by further evaporating much of the moisture. Plus, you can salt the squash on a rack fitted over a sheet pan, and then roast it on the same setup for 30 minutes at 400F.
Once the squash has cooled enough to handle, peel the skin away with your fingers, or if it's stubborn, use your knife to slice the peel off.
NoMayo https://nomayo.us/