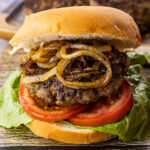 Momburgers
2023-07-17 13:38:44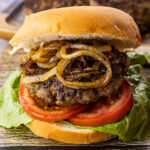 Nutrition Facts
Amount Per Serving
* Percent Daily Values are based on a 2,000 calorie diet. Your Daily Values may be higher or lower depending on your calorie needs.
Ingredients
Ground beef patties (any size you like)
Paprika
Garlic Salt
Accent
Tomato slice
Lettuce
Onion (see notes)
Instructions
Just sprinkle a reasonable amount of paprika, garlic salt and accent on each side of the patty.
Grill or broil to your preferred degree of doneness
Notes
A very simple recipe, but it's a perfect burger.
I like to saute red onion slices and serve with lettuce and tomato.
NoMayo https://nomayo.us/