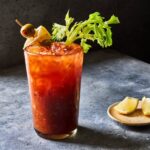 Bloody Mary Mix
2020-06-02 14:49:58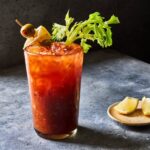 Nutrition Facts
Amount Per Serving
* Percent Daily Values are based on a 2,000 calorie diet. Your Daily Values may be higher or lower depending on your calorie needs.
For the bloody Mary mix (serves 6)
1 (46-ounce) can Sacramento brand tomato juice (5 3/4 cups)
¾ cup plus 1 tablespoon Gold's Prepared Horseradish
½ cup fresh lemon juice (from 3 or 4 juicy lemons)
½ cup Lea & Perrins Worcestershire sauce
2 teaspoons freshly ground black pepper
2 teaspoons Diamond Crystal kosher salt
2 teaspoons Tabasco hot sauce
For serving
Ice
Tito's Handmade Vodka, for spiking (optional)
Celery ribs, pimento-stuffed olives and lemon wedges, for garnish
SINGLE SERVING
4 ounces tomato juice
1 tbsp. horseradish
2 tsp. lemon juice
2 tsp. Worcestershire
1/4 tsp. salt
1/4 tsp. pepper
1/4 tsp. hot sauce
3 tbsp. vodka (equals one shot, optional)
Instructions
Whisk together all the bloody Mary mix ingredients, transfer to a bottle and shake well just before using.
Fill tall glasses with ice; pour the bloody Mary mix on top.
If using the vodka, mix 1/4 cup vodka with 1/2 cup bloody Mary mix in a shaker over ice; shake for 10 hard strokes, strain and pour into each ice-filled glass.
Garnish with a leafy interior rib of celery, a wooden skewer of olives and a lemon wedge.
Adapted from New York Times - May 13, 2020
Adapted from New York Times - May 13, 2020
NoMayo https://nomayo.us/