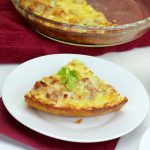 Breakfast Pie with Hash Brown Crust
2018-04-09 13:18:51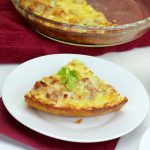 Nutrition Facts
Amount Per Serving
* Percent Daily Values are based on a 2,000 calorie diet. Your Daily Values may be higher or lower depending on your calorie needs.
Ingredients
2 tbl olive oil
3 1/2 cups peeled, shredded hash browns
salt, black pepper
2 tbl unsalted butter
1 large leek, halved lengthwise, cleaned, and white and light greens thinly sliced into half moons
8 oz mushrooms, cut into 1/4 inch slices
5 large eggs
3/4 cup heavy (whipping) cream
1 cup grated parmesan
Instructions
Preheat the oven to 350 degrees with a rack in the middle position.
Heat the olive oil in a large nonstick skillet over medium heat. While the skillet heats, combine the shredded potatoes with 1 teaspoon salt, ½ teaspoon pepper, and some rosemary in a large bowl and toss to combine.
Add the seasoned potatoes to the hot skillet, spread them into a single layer, and cook, flipping once with a spatula, until they are crispy on both sides, about 10 minutes. Dump potatoes into a 9" pie plate and spread along the bottom and up the sides. You may want to allow the potatoes to cool a little before spreading.
Melt 2tbl butter In the same skillet over medium heat. Add the leeks and mushrooms and cook until they are soft and lightly browned, 15 to 20 minutes. Remove from heat and let cool.
Meanwhile, combine the eggs and cream in a large bowl and whisk together. Add salt and pepper and half the grated cheese and whisk until incorporated.
Spread the leeks and mushrooms over the bottom of the crust and top with the remaining cheese. Pour in the egg mixture.
Bake until the filling is cooked through and the top is nicely browned, 30 to 40 minutes. Serve immediately. Serves 6.
Notes
This is really good, and a solid choice for vegetarians and gluten-sensitives.
NoMayo https://nomayo.us/