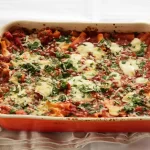 Baked Ziti
2023-06-17 12:18:33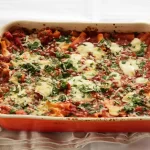 Nutrition Facts
Amount Per Serving
* Percent Daily Values are based on a 2,000 calorie diet. Your Daily Values may be higher or lower depending on your calorie needs.
Ingredients
1 pound (454g) ziti, penne, or other thick tubular pasta
4 cups (950ml) homemade or high-quality store-bought red sauce (such as Rao's), divided
12 ounces (340g) whole-milk homemade or high-quality ricotta cheese (see notes)
3 ounces (85g) Parmigiano-Reggiano, finely grated and divided (about 1 1/2 cups)
1lb sweet Italian sausage (optional)
2 large eggs, beaten
1 cup (240ml) heavy cream
3 tablespoons minced fresh flat-leaf parsley, divided
3 tablespoons minced fresh basil, divided
Kosher salt and freshly ground black pepper
1 pound (454g) whole-milk mozzarella cheese, cut into rough 1/4-inch cubes and divided
Cooking spray
Instructions
Adjust an oven rack to the middle position and preheat the oven to 400°F.
Place ziti in a large bowl and cover with hot salted water by 3 or 4 inches. Let sit at room temperature for 30 minutes, stirring after the first 5 minutes to prevent sticking. Drain.
Pour 3 cups of the red sauce into a large pot; add ricotta, half of the Parmigiano, eggs, cream, and half of the parsley and basil, and stir to combine.
Season to taste with salt and pepper.
Add the soaked ziti along with half of the mozzarella cheese cubes and stir until well combined.
Transfer to an ungreased 9- by 13-inch baking dish and top with the remaining 1 cup red sauce and mozzarella.
Lightly grease aluminum foil with cooking spray. Cover the baking dish tightly with the sprayed aluminum foil and bake for 45 minutes.
Remove foil and bake until the cheese beginsto brown, about 15 minutes longer.
Remove from oven and sprinkle with remaining Parmigiano, then let cool for 10 minutes. Sprinkle with remaining parsley and basil and serve.
Notes
Look for a ricotta cheese that contains nothing but milk, salt, and starter culture or acid. Avoid those with gums and stabilizers. Our favorite national store-bought brand is Calabro.
I made two versions of this 6/2023. One with 1lb sweet Italian sausage and one without. Both were very good.
https://www.seriouseats.com/food-lab-no-boil-baked-ziti-recipe
NoMayo https://nomayo.us/