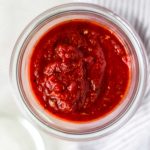 Keith Sirlin's Pasta Sauce
2019-11-19 16:36:04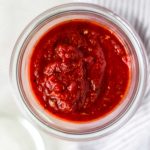 Nutrition Facts
Amount Per Serving
* Percent Daily Values are based on a 2,000 calorie diet. Your Daily Values may be higher or lower depending on your calorie needs.
Ingredients
1 cup sun-dried tomatoes, packed, (not marinated)
1/2 cup olive oil or more
1/3 cup toasted pine nuts
2 tsp. fresh minced garlic or more if you like garlic
½ cup parmesan cheese, grated
½ tsp. Kosher salt
Ground pepper to taste
Instructions
Place all ingredients except the oil in a small food processor.
Drizzle in the oil while the machine is running.
Process the ingredients until they resemble a very loose paste adding more oil if necessary.
Adjust the seasonings.
NoMayo https://nomayo.us/