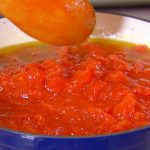 Pomodoro Sauce
2019-01-24 14:20:40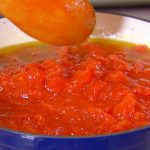 From Marilyn Mossman
Nutrition Facts
Amount Per Serving
* Percent Daily Values are based on a 2,000 calorie diet. Your Daily Values may be higher or lower depending on your calorie needs.
Ingredients
Two 35-ounce cans crushed Italian plum tomatoes (preferably San Marzano)
1/4 cup extra virgin olive oil
1 medium onion, chopped (about 1 cup)
1/2 teaspoon crushed red pepper flakes
2 garlic cloves, minced
2 bay leaves
Salt
Fresh ground black pepper
Instructions
Pass the tomatoes and their liquid through a food mill fitted with the fine disc.
Heat 1/4 cup olive oil in a 4- to 5-quart pot over medium high heat. Stir in the onion and cook, stirring, until wilted, about 4 minutes.
Pour in the tomatoes, crushed red pepper and bay leaves, and season lightly with salt and pepper.
Bring to a boil, then lower the heat so the sauce is at a lively simmer. Cook, stirring occasionally, 30 minutes.
Remove bay leaves before serving.
NoMayo https://nomayo.us/