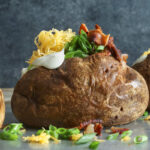 Baked Potato
2021-11-14 15:10:54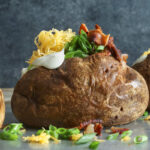 Nutrition Facts
Amount Per Serving
* Percent Daily Values are based on a 2,000 calorie diet. Your Daily Values may be higher or lower depending on your calorie needs.
Ingredients
4 large baking potatoes, like russets
1 teaspoon olive oil
Kosher salt
4 tablespoons unsalted butter
Instructions
Preheat oven to 450.
Scrub potatoes under running water; dry them, and rub the skin of each with the oil and a little salt. Pierce the skin of each in three or four places with the tines of a fork.
Place the potatoes in the oven, and roast for 45 minutes to an hour, depending on the size of the potatoes, until they offer no resistance when a knife is inserted in their centers.
Remove the potatoes from the oven, slice them open down the middle, apply a tablespoon of butter to each one and serve immediately.
Notes
I use a convection oven and bake them at 425°
Adapted from NYT
Adapted from NYT
NoMayo https://nomayo.us/