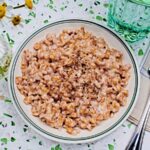 Faro e Pepe
2020-06-02 15:06:32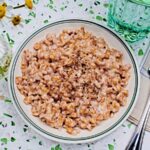 Serves 4
Nutrition Facts
Amount Per Serving
* Percent Daily Values are based on a 2,000 calorie diet. Your Daily Values may be higher or lower depending on your calorie needs.
Ingredients
Sea salt
2 cups semi-pearled or pearled farro (about 13 1/2 ounces)
7 ½ ounces Pecorino Romano, finely grated (about 1 1/2 cups)
1 ¼ teaspoons coarsely grated black pepper, plus more for serving
¼ cup cold water, plus more if needed
Instructions
Bring a large pot of water to a boil. Season generously with salt until the water is as salty as the sea. Add farro, and cook until al dente, about 15 to 18 minutes. Set a colander in the sink.
In the meantime, place pecorino and pepper in a medium bowl, and add ¼ cup cold water. Use an immersion blender to combine into a thick, smooth paste. Add more cold water if needed, one tablespoon at a time, to encourage blending. If you don't have an immersion blender, use a food processor for this step.
When the farro is cooked, reserve 1 1/2 cups cooking water; transfer farro to colander to drain, then return to pot. Add 3/4 cup pecorino paste and 1/2 cup reserved cooking water, and stir vigorously with a wooden spoon until cheese melts and coats farro with a glossy sheen. Taste, and add cooking water and more pecorino paste to taste until farro is the consistency of a loose risotto. If farro is properly seasoned but too thick, add warm tap water instead of salted cooking water to loosen.
Serve immediately, garnished with more pepper. Cover and refrigerate any remaining pecorino paste for up to 1 week. Use on pasta, farro or rice, or spread on toast.
Adapted from NYT 5/3/2020
Adapted from NYT 5/3/2020
NoMayo https://nomayo.us/