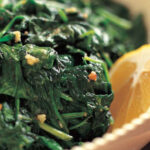 Garlic Sauteed Spinach
2020-06-02 14:30:58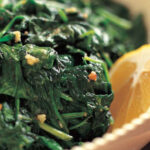 Nutrition Facts
Amount Per Serving
* Percent Daily Values are based on a 2,000 calorie diet. Your Daily Values may be higher or lower depending on your calorie needs.
Ingredients
1-1/2 pounds baby spinach leaves
2 tablespoons good olive oil
2 tablespoons chopped garlic (6 cloves)
2 teaspoons kosher salt
3/4 teaspoon freshly ground black pepper
1 tablespoon unsalted butter
Lemon
Sea salt (optional)
Instructions
Rinse the spinach well in cold water to make sure it's very clean. Spin it dry in a salad spinner, leaving just a little water clinging to the leaves.
In a very large pot or Dutch oven, heat the olive oil and sauté the garlic over medium heat for about 1 minute, but not until it's browned. Add all the spinach to the pot, toss it with the garlic and oil, cover the pot, and cook it for 2 minutes. Uncover the pot, turn the heat on high, and cook the spinach for another minute, stirring with a wooden spoon, until all the spinach is wilted. Using a slotted spoon, lift the spinach to a serving bowl and top with the butter, a squeeze of lemon, and season to taste with sea or kosher salt and pepper. Serve hot.
Adapted from Barefoot Contessa
Adapted from Barefoot Contessa
NoMayo https://nomayo.us/