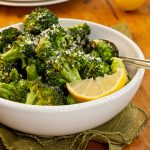 Garlicky Roasted Broccoli with Parmigiano-Reggiano
2018-03-10 14:39:54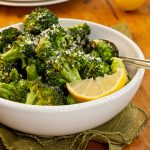 Serves 4
Nutrition Facts
Amount Per Serving
* Percent Daily Values are based on a 2,000 calorie diet. Your Daily Values may be higher or lower depending on your calorie needs.
Ingredients
2 pounds broccoli crowns (be sure they are dry)
3 tablespoons extra virgin olive oil
3 garlic cloves, minced
3/4 teaspoon kosher salt
1/4 teaspoon freshly ground black pepper
3/4 teaspoon sugar
3 tablespoons freshly grated Parmigiano-Reggiano
Lemon wedge (optional)
Instructions
Preheat the oven to 450 degrees. Line a baking sheet with aluminum foil.
Cut the broccoli into 2-inch florets, leaving one to two inches of stems attached. Discard the remaining thick stalks.
In a large bowl, combine the olive oil, garlic, salt, pepper and sugar and mix well. Add the broccoli and toss to coat evenly. Transfer the broccoli to the prepared baking sheet.
Roast for 10 minutes, until the broccoli is crisp-tender and lightly browned in spots.
Sprinkle 2 tablespoons of the grated Parmigiano-Reggiano over the broccoli.
Taste and adjust seasoning if necessary.
Transfer to a serving dish and gently squeeze 1-2 teaspoons of lemon over top. Sprinkle the remaining cheese over top and serve hot.
Notes
https://www.onceuponachef.com/recipes/garlicky-roasted-broccoli-with-lemon-pecorino-romano.html
NoMayo https://nomayo.us/