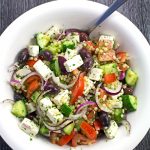 Greek Couscous
2018-03-09 15:04:51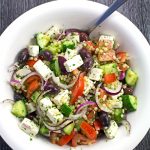 Nutrition Facts
Amount Per Serving
* Percent Daily Values are based on a 2,000 calorie diet. Your Daily Values may be higher or lower depending on your calorie needs.
Ingredients
1 cup uncooked pearled (Israeli)
whole-wheat couscous
1 cup diced cucumber
1/3 cup diced red onion
1/3 cup sliced sun-dried tomatoes
1/4 cup feta cheese
1/4 cup kalamata olives, chopped
1-1/2 tablespoons olive oil
3 tablespoons cider vinegar
1/4 cup minced parsley
1 clove garlic, peeled, minced
1/2 teaspoon dried oregano
1/2 teaspoon salt
¼ teaspoon ground black pepper
Instructions
Cook couscous according to package directions, omitting the salt.
When done, rinse couscous under coldwater and drain well.
Place the couscous, cucumber, onion, sun-dried tomatoes, feta and olives in a large bowl.
To prepare the dressing, combine the vinegar, olive oil, parsley, garlic, oregano, salt and pepper in a small jar with a tight-fitting lid and shake well.
Drizzle dressing over salad and toss gently to coat.
Refrigerate at least 2 hours before serving, to allow flavors to blend.
Notes
Created by Darlene Zimmerman. MS. RD, for Heart Smart and tested by Susan M. Selasky for the Free Press Test Kitchen
125 calories (36% from fat). 5 grams fat (1 gram sat. fat, 0 grams trans fat), 19 grams carbohydrates, 4 grams protein. 253 mg sodium, 4 mg cholesterol. 35 mg calcium, 3 grams fiber. Food exchanges: 1 starch, 1 fat.
Adapted from Free Press Test Kitchen
Adapted from Free Press Test Kitchen
NoMayo https://nomayo.us/