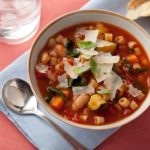 Hearty Minestrone with Celery and Parmesan
2018-02-08 19:53:32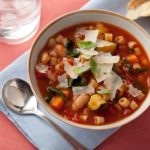 Nutrition Facts
Amount Per Serving
* Percent Daily Values are based on a 2,000 calorie diet. Your Daily Values may be higher or lower depending on your calorie needs.
Ingredients
2 tablespoons extra-virgin olive oil
2 cups diced celery plus 1/2 cup chopped celery leaves, divided
1/2 cup diced onion
1/2 cup diced carrot
1 clove garlic, chopped
1 teaspoon celery seed
1/2 teaspoon freshly ground pepper
4 cups reduced-sodium chicken broth or vegetable broth
1/3 cup whole-wheat orzo or other small pasta
1 15-ounce can diced tomatoes
1 3/4 cups cooked chickpeas or cannellini beans or one 15-ounce can, rinsed
1/4 cup packed grated Parmigiano-Reggiano cheese, plus more for serving
Instructions
Heat oil in a large saucepan or wide shallow soup pot over medium heat. Add diced celery, onion, carrot, garlic, celery seed and pepper. Cook, stirring occasionally, until the vegetables are tender, about 10 minutes.
Add broth and bring to a boil. Add pasta and cook, uncovered, until tender, 8 to 10 minutes. Add tomatoes, chickpeas (or beans), half the celery leaves and 1/4 cup cheese. Cook over medium heat until steaming-hot, 3 to 5 minutes. Ladle into bowls and garnish with the remaining celery leaves and a light dusting of cheese, if desired.
Notes
Make Ahead Tip: Cover and refrigerate for up to 1 day.
NoMayo https://nomayo.us/