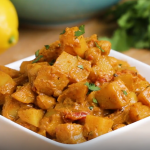 Potato Curry
2019-08-09 11:54:56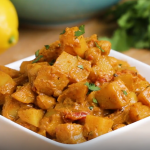 Serves 4
Nutrition Facts
Amount Per Serving
* Percent Daily Values are based on a 2,000 calorie diet. Your Daily Values may be higher or lower depending on your calorie needs.
Ingredients
2 tablespoons vegetable oil
1 medium yellow onion, diced
4 cloves garlic, minced
4 teaspoons curry powder
1 ½ teaspoons paprika
1 teaspoon cayenne
2 teaspoons cumin powder
½ teaspoon allspice
2 teaspoons fresh ginger, minced
½ teaspoon black pepper
2 lb potato, peeled and cubed
15 oz chickpeas, 1 can, drained
1 cup vegetable broth
1 tablespoon lemon juice
14 oz diced tomato, 1 can
14 oz coconut milk, 1 can (I don't like coconut milk so I will substitute with greek yogurt.)
Rice, cooked, for serving
Naan bread, for serving
Fresh cilantro, chopped, for garnish
Instructions
Heat the oil in a large pot over medium heat until shimmering. Add the onion and saute for about 3 minutes, until translucent.
Add the garlic and saute for about 2 minutes, until fragrant.
Add the curry powder, paprika, cayenne, cumin, allspice, ginger, salt, and pepper. Stir and cook for about 2 minutes until the spices are fragrant.
Add the potatoes and mix well until well-coated in spices.
Add the chickpeas and stir to incorporate.
Add the broth, lemon juice, and tomatoes and stir, then pour in the coconut milk and stir to combine.
Increase the heat to high and bring the mixture to a simmer. Once bubbling, reduce the heat to medium and cook for 15-20 minutes, until the potatoes are tender and easily pierced with a fork.
Serve with cooked rice and naan and garnish with fresh cilantro.
Notes
I haven't tried this.
Adapted from Tasty
NoMayo https://nomayo.us/