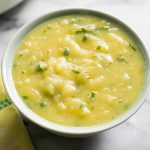 Potato-Leek Soup
2018-02-08 20:25:48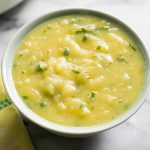 Nutrition Facts
Amount Per Serving
* Percent Daily Values are based on a 2,000 calorie diet. Your Daily Values may be higher or lower depending on your calorie needs.
Ingredients
2 cloves garlic
1 bunch leeks*
¾ stick butter
1 T. vinegar
2 t. tarragon
8 cups "chicken" broth**
Dash pepper
8 small potatoes (cubed)
1T lemon juice
Instructions
1. Saute garlic in butter, then add leeks.
2. Cook for 15 minutes so that the leeks are softened.
3. Add broth and seasonings
4. Add potatoes (you can use any kind, but I like to use redskins, unpeeled.)
5. Cook for 30 minutes
6. Puree solids
7. Add lemon juice and serve.
Notes
Optional: some people add heavy cream at the end. You can also serve with croutons.
NoMayo https://nomayo.us/