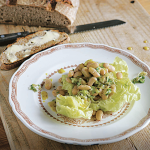 Warm Leek and White Bean Salad
2018-04-11 10:21:45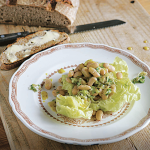 Serves 4
Nutrition Facts
Amount Per Serving
* Percent Daily Values are based on a 2,000 calorie diet. Your Daily Values may be higher or lower depending on your calorie needs.
Ingredients
2 tablespoons rapeseed or olive oil
2 large leeks, trimmed, washed and finely sliced
1 tin (14 oz) of white beans, drained and rinsed, such as cannellini
1 heaped tablespoon chopped flat-leaf parsley
Sea salt and freshly ground black pepper
Salad leaves, to serve
MUSTARD DRESSING
1 tablespoon dijon mustard
1 teaspoon wholegrain mustard, (optional)
3 tablespoons rapeseed or extra virgin olive oil
2 teaspoons cider vinegar
A pinch each of sea salt, freshly ground black pepper, sugar
Instructions
Heat the oil in a large frying pan over a medium heat, then add the leeks and a good pinch of salt. As soon as the leeks begin to soften, turn the heat down fairly low and continue to cook, stirring from time to time for 6–7 minutes, until they are soft; don't let them colour. Add the beans and toss together until heated through. Remove from the heat and stir in the parsley and plenty of black pepper.
For the dressing, whisk all the ingredients together to combine. Add to the pan of warm leeks and beans and stir well.
Divide the salad leaves between 4 plates and spoon the warm bean and leek mixture on top. Serve straight away, accompanied by toasted sourdough bread. Alternatively, forget the leaves and just serve the dressed beans on toast.
Adapted from River Cottage Cookbook
Adapted from River Cottage Cookbook
NoMayo https://nomayo.us/