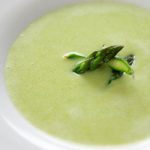 Asparagus Soup
2018-02-08 19:04:24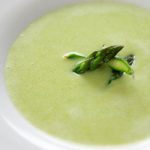 Nutrition Facts
Amount Per Serving
* Percent Daily Values are based on a 2,000 calorie diet. Your Daily Values may be higher or lower depending on your calorie needs.
Ingredients
1 pint onion, ½" dice
¼ c vegetable oil
1 c celery, ½" dice
1 quart asparagus*, 1" pieces
1 pint Idaho or russet potato (about 1 large), ½" dice
1 Tbl kosher salt
1 ½ quarts chicken stock
dash black pepper
Garnish
½ c whipped cream
Drizzle Truffle oil
Instructions
1. Start with a short-sided pot/pan, preheat to high. Once pan is hot, add vegetable oil and diced onions. Sauté until onions become fragrant and slightly golden, approximately 4-5 minutes.
2. Add Celery and asparagus to pan with cooked onions. Season with 2 teaspoons of kosher salt and black pepper. Continue to sauté over high heat until asparagus and celery are soft and fragrant, approximately 4-5 minutes.
3. Add potatoes and continue to cook for an additional 2 minutes.
4. Transfer all vegetable to a tall-sided 8-qt. soup pot. Add chicken stock, bring to a boil then immediately reduce heat to a low simmer. Simmer for 15 minutes or until potatoes are cooked through.
5. Puree soup using a blender or food processor. Do not use an immersion blender or it won't be creamy enough. Do a little at a time.
Notes
Before serving, taste and correct seasoning with additional kosher salt and pepper as needed. Garnish soup with a dollop of whipped cream and drizzle truffle oil.
To whip cream: Place whipping cream and ¼ tsp kosher salt and a dash of pepper in a medium mixing bowl. Whip cream using a hand held mixer or wire whip. Whip until it holds soft peaks.
* Can substitute any vegetable for asparagus.
NoMayo https://nomayo.us/