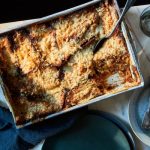 French Onion Panade
2018-02-07 12:30:08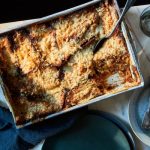 Nutrition Facts
Amount Per Serving
* Percent Daily Values are based on a 2,000 calorie diet. Your Daily Values may be higher or lower depending on your calorie needs.
Ingredients
1 large, stale loaf crusty sourdough bread (about 1 1/4 pounds), cut into 1/3-inch slices
8 tablespoons (4 ounces) unsalted butter, divided
2 tablespoons extra-virgin olive oil
4 pounds (about 5 large) yellow onions, thinly sliced
Fine sea salt
2 tablespoons white-wine vinegar
¼ cup white wine or dry vermouth
5 to 6 cups chicken stock, preferably homemade
12 ounces Gruyère cheese, grated (about 3 cups)
3 ounces Parmesan, finely grated (about 1 1/3 cups)
Freshly ground black pepper
Instructions
Step 1
Heat oven to 325º
Step 2
Divide bread slices among 2 or 3 baking sheets. Spread bread out in a single layer, and toast for 20 minutes, then flip slices, and rotate pans to ensure even toasting. Toast until dried out and lightly golden, about 35 minutes total. Set aside. Increase oven temperature to 425, and adjust oven rack to center position.
Step 3
Set a large Dutch oven or similar pot over medium heat. Add 4 tablespoons butter and olive oil. When butter has melted, add onions and 1 1/2 teaspoons salt. Cook covered for 15 minutes, stirring occasionally with a wooden spoon.
Step 4
Once the onions cook down a bit and release some liquid, remove lid and increase heat to medium high. Continue cooking and stirring regularly until onions are tender and dark golden brown, about 45 minutes total. Turn off heat, add vinegar and wine and stir to deglaze. Taste, and adjust salt and vinegar as needed — the onions should be sweet, savory and pleasantly tangy. Spoon onions into a heatproof bowl, and set aside.
Step 5
Return pot to stove. Add stock and 1 teaspoon salt, and bring to a boil, then reduce to a simmer. Taste, and adjust salt as needed — it should taste like good chicken soup.
Step 6
Place both cheeses in a medium bowl, and mix to combine.
Step 7
Butter the inside of a deep 9-by-13-inch baking dish. Line the bottom with a layer of toasted bread, breaking up pieces as needed to form a solid layer. Spoon half the onion mixture evenly over the bread. Sprinkle with 1/3 of the cheese mixture, and season with pepper. Continue layering with bread, the remainder of the onions and another 1/3 of the cheese. Top off with a final layer of bread.
Step 8
Ladle 3 cups of stock over the panade, then wait a minute, and allow the bread to absorb liquid. Pressing down on panade with a metal spatula, add as much stock as the panade will absorb without overflowing. Dot the top layer of bread with remaining butter, then cover with parchment paper and foil. Place baking dish atop baking sheet to catch any overflow, then slide onto the center rack. Bake for 30 minutes, then remove foil and parchment, sprinkle with remaining cheese and return to oven for 15 minutes more. Bake until golden brown.
Step 9
Remove panade from oven, and allow it to cool for 10 minutes before serving. Cover, and refrigerate leftovers for up to 3 days or freeze for up to 2 months. Reheat to serve.
Notes
Tip
Use homemade chicken stock if possible, or buy it from a good butcher. This dish is about the marriage of bread and stock, so the better these are, the better the panade will be. And don't be afraid to really submerge the bread in the stock before baking.
NoMayo https://nomayo.us/