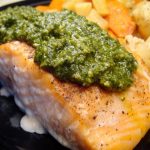 Baked Pesto Salmon
2018-03-27 14:08:48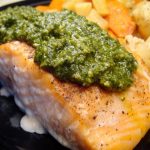 Nutrition Facts
Amount Per Serving
* Percent Daily Values are based on a 2,000 calorie diet. Your Daily Values may be higher or lower depending on your calorie needs.
Ingredients
16 ounces (half side) of salmon
Kosher salt and pepper
1 tablespoon lemon zest
¼ cup pesto sauce
1 lemon cut into thin slices
Instructions
Preheat the oven to 400 degrees F.
Place the salmon skin side down on a lined baking sheet sprayed with non-stick coating.
Season the salmon with salt, pepper, and lemon zest. Using a silicon brush or the back of a spoon spread an even layer of pesto sauce over the salmon. Top the salmon with slices of fresh lemon.
Bake the salmon for 18-20 minutes until the salmon is cooked through.
Notes
An easy delicious baked salmon recipe using half a salmon. Seasoned with pesto sauce, lemons, and salt and pepper, this salmon is perfect for brunch or dinner.
NoMayo https://nomayo.us/