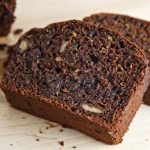 Chocolate Espresso Zucchini Bread
2018-03-22 19:23:04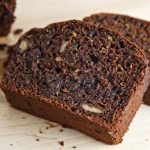 Serves 12
If you have to eat zucchini, this is a good way to do it.
Nutrition Facts
Amount Per Serving
* Percent Daily Values are based on a 2,000 calorie diet. Your Daily Values may be higher or lower depending on your calorie needs.
Ingredients
Vegetable oil cooking spray
2 tablespoons trans fat-free margarine
2 tablespoons (1 ounce) reduced-fat cream cheese
1 cup granulated sugar
1 large egg
1 tablespoon vanilla extract
1 cup white whole wheat flour
3/4 cup all-purpose flour
1/3 cup cocoa powder
1 tablespoon instant espresso coffee
1 teaspoon baking powder
1/2 teaspoon baking soda
1/8 teaspoon salt
1/2 cup low-fat buttermilk
2 cups shredded zucchini, squeezed
1/3 cup (13/4 ounces) dark chocolate, chopped
Instructions
Preheat oven to 375 degrees. Spray a 9-inch loaf pan with cooking spray and set aside.
In a large mixing bowl, beat margarine, cream cheese, sugar, egg and vanilla extract with a mixer on medium speed.
In a separate bowl, combine whole wheat flour, all-purpose flour, cocoa powder, instant espresso coffee, baking powder, baking soda and salt. Add flour mixture to sugar mixture alternately with buttermilk, mixing after each addition. Stir in zucchini and dark chocolate.
Pour batter into prepared loaf pan and bake 50 to 60 minutes or until a wooden pick inserted in center comes out clean. Cool in pan on wire rack for 20 minutes. Remove bread from pan and cool completely on wire rack.
NoMayo https://nomayo.us/