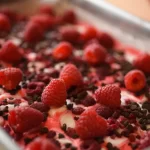 Raspberry-Chocolate Greek Yogurt Bark
2022-02-14 19:56:46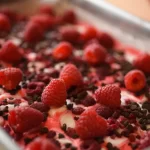 Nutrition Facts
Amount Per Serving
* Percent Daily Values are based on a 2,000 calorie diet. Your Daily Values may be higher or lower depending on your calorie needs.
Ingredients
24-ounce container plain, non-fat Greek yogurt
3-ounce box raspberry gelatin mix
1 cup frozen raspberries
1/3 cup mini chocolate chips
Instructions
Mix about three-quarters of the yogurt with the raspberry gelatin mix in a medium-sized bowl.
Line a rimmed baking sheet with parchment paper and spread the mixture onto the paper, about ¼- to ½-inch thick. Drop teaspoons of the reserved yogurt on top, then draw a knife through the dollops to swirl. Sprinkle frozen raspberries and chocolate chips on top.
Cover with plastic wrap and put in the freezer for at least 2 hours until firmly set. Break apart and separate into 10 servings. Store each serving in a small plastic bag in the freezer until ready to eat.
Notes
116 calories (18% from fat), 2 grams fat (1 gram sat. fat), 17 grams carbohydrates, 8 grams protein, 65 mg sodium, 2 mg cholesterol, 50 mg calcium, 1 gram fiber. Food exchanges: ½ milk, ½ starch, ½ protein.
Adapted from Detroit Free Press
Adapted from Detroit Free Press
NoMayo https://nomayo.us/