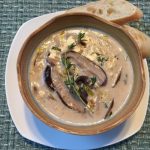 Creamy Wild Mushroom Soup with Leeks
2018-02-08 19:27:59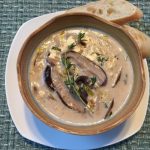 Nutrition Facts
Amount Per Serving
* Percent Daily Values are based on a 2,000 calorie diet. Your Daily Values may be higher or lower depending on your calorie needs.
Ingredients
6 to 8 ounces fresh shiitake mushrooms
6 to 8 ounces fresh portobello mushrooms
6 to 8 ounces fresh cremini (or porcini) mushrooms
1 tablespoon olive oil
6 tablespoons unsalted butter, divided
1 cup chopped yellow onion
1 carrot, peeled chopped
1 sprig fresh thyme plus 1 teaspoon minced thyme leaves, divided
Kosher salt and freshly ground black pepper
2 cups chopped leeks, white and light green parts (2 large leeks)
1/4 cup all-purpose flour
1 cup dry white wine
1 cup half-and-half
1 cup heavy cream
1/2 cup minced fresh flat-leaf parsley
Instructions
Clean the mushrooms by wiping them with a dry paper towel. Separate the stems, trim off any bad parts and coarsely chop the stems. Slice the mushroom caps 1/4-inch thick and, if there are big, cut them into bite-sized pieces. Set aside.
To make the stock, heat the olive oil and 1 tablespoon of the butter in a large pot. Add the chopped mushroom stems, the onion, carrot, the sprig of thyme, 1 teaspoon salt and 1/2 teaspoon of pepper, and cook over medium-low heat for 10-15 minutes, until the vegetables are soft. Add 6 cups of water, bring to a boil, reduce the heat and simmer uncovered for 30 minutes. Strain, reserving the liquid. You should have about 4 1/2cups of stock. If not, add some water.
Meanwhile, in another large pot, heat the remaining 5 tablespoons of butter and add the leeks. Cook over low heat for 15-20 minutes, until the leeks begin to brown. Add the sliced mushroom caps and cook for 10 minutes, or until they are browned and tender. Add the flour and cook for 1 minute. Add the white wine and stir for another minute, scraping the bottom of the pot. Add the mushroom stock, minced thyme leaves, 1 teaspoon of salt and 1 teaspoon of pepper and bring to a boil. Reduce the heat and simmer for 15 minutes. Add the half-and-half, cream and parsley, season with salt and pepper to taste, and heat through but do not boil. Serve hot.
Notes
The original recipe called for a mix of shiitake, portabella and cremini mushrooms, but you can use any varieties. Mushrooms are considered a umami ingredient - especially dried shiitake mushrooms that you reconstitute. Referred to as the fifth taste behind sweet, salty, bitter and sour, umami ingredients add a meaty taste to dishes without the addition of meat.
Shiitake mushrooms have a meaty texture. Once cooked, that meaty flavor profile continues with the addition of a bit of smokiness. When using shiitakes, only the caps are generally eaten. The stems, as in today's recipe, are used to make stock along with the other mushroom stems. For today's recipe, I used a mix of cremini and shiitake. Many sources says cremini are just the brown version of a white mushroom. You will also see them referred to as Italian mushrooms. They are my go-to mushrooms because I think they have a heartier taste and texture than regular white mushrooms.
In making the mushroom stock, there's no long simmering process or roasting. It's made from mushroom stems and vegetables - that's it. So it works twofold: making use of any leftover vegetables hanging around as well as the mushroom stems. Shiitake mushroom stems, because of their tough texture, aren't usually used in recipes. But they are a good way to flavor stocks and broths.
Most recipes say never to wash mushrooms or soak them in water. Instead, mushrooms should be wiped clean with a damp paper towel. If you just rinse them quickly under water, it's fine. Mushrooms are like a sponge, and if you put them in water, they'll soak it up and lose flavor.
Finely, the creaminess. It's thanks to heavy cream, half-and-half and butter. Yes, it's a lot of fat. But it's also a lot of flavor.
Adapted from Susan Selasky
Adapted from Susan Selasky
NoMayo https://nomayo.us/