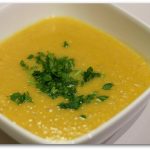 Crushed Lentil Soup
2018-02-08 19:32:34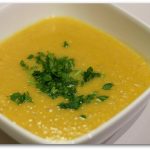 Nutrition Facts
Amount Per Serving
* Percent Daily Values are based on a 2,000 calorie diet. Your Daily Values may be higher or lower depending on your calorie needs.
Ingredients
2 tablespoons extra virgin olive oil
1 large clove garlic, peeled, chopped (I used 2)
1 medium onion,peeled, coarsely chopped
2 cups orange lentils, rinsed
6 cups water or vegetable broth (I used water and added 4 tsp of a kosher, vegetable-based, chicken-flavored, powdered soup stock)
Seasonings
2 teaspoons ground cumin
1 teaspoon salt
1/2 teaspoon black pepper
Croutons. if desired
Lemon wedges
Instructions
In a large stock pot, heat the oil over medium heat. Add the garlic and sauté 1 minute. Add the onion and sauté until soft, about 5 minutes. Add the lentils and stir to soak them in the oil. Add the stock and bring them to a boil. Reduce the heat to medium, cover the pot and cook, removing any foam that rises to the surface, until the lentils are soft, about 30-40 minutes (My smaller lentils were ready in 25 minutes). Remove the pot from the heat and set it aside to cool for 15 minutes.
Transfer the lentils, with their liquid, to a blender, in batches if necessary, and coarsely puree. Return the soup to the pot. Add the cumin, salt, and pepper. Bring to a boil over medium-high heat, stirring frequently. Reduce the heat to low and simmer, uncovered, for 15 minutes.
Notes
Ladle the soup into bowls, and sprinkle a few croutons on top and serve with lemon wedges, if desired.
Adapted from Susan Selasky
Adapted from Susan Selasky
NoMayo https://nomayo.us/