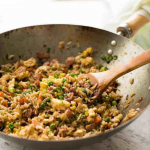 Fried Rice II
2019-11-19 17:20:18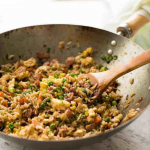 Nutrition Facts
Amount Per Serving
* Percent Daily Values are based on a 2,000 calorie diet. Your Daily Values may be higher or lower depending on your calorie needs.
Ingredients
2 tbsp oil
2 garlic cloves , minced
1/2 onion , finely chopped
120 g/4 oz bacon , chopped (optional, or use ham)
1 - 1 1/2 cups diced vegetables , frozen or fresh (Note 1)
2 cups (packed) cooked day old white rice (refrigerated or frozen defrosted (Note 2)
3 eggs, whisked
3/4 cup green onions , (shallots / scallions) sliced
Sauce
1 tbsp Chinese cooking wine or Mirin (or sake, dry sherry) (Note 4)
1 tbsp oyster sauce
1 tbsp dark soy sauce (or light or all purpose) (Note 5)
1/2 tsp sesame oil , optional
1/4 tsp white pepper
Instructions
Heat about 1 1/2 tbsp oil in a wok or 2 tbsp oil in a skillet over high heat until smoking.
Add onion, garlic and bacon. Cook until bacon is light golden - about 1 1/2 minutes.
Add vegetables (still frozen is fine). Cook for 2 minutes so they defrost and water evaporates.
Add rice and Sauce ingredients. Cook for 1 1/2 minutes until liquid evaporates.
Shove rice to the side of the wok / skillet. Add 1/2 tbsp oil into the cleared space, shift wok so the heat is centred over the cleared space. Pour in egg then scramble - cook it through properly, don't "soft scramble".
Add shallots then stir the egg into the rice. Remove from heat and serve immediately!
Recipe Notes
1. Vegetables - I used peas, corn, carrots frozen (no need to thaw). Use 2 cups of any vegetables you want. Dice firm vegetables like carrots. For leafy things like Asian greens, chop the stems into small bite size pieces, and chop the leaves into 2.5cm/1" pieces (they will wilt).
2. Cold, day old rice - You need day old rice that's been refrigerated or frozen (then thawed) because the rice grains dry out, making them ideal for fried rice. Sticky freshly cooked rice is no good for fried rice - it makes fried rice gluey. Long grain white rice is best for Chinese fried rice. But any cooked, cold rice will be fine - white or brown.
3. Here is how I cook white rice: Place 1 cup rice in a saucepan with 1 1/2 cups water over medium high heat. Put lid on, then when the water starts to simmer, immediately turn down to low or medium low so the water simmers gently. Leave for 12 minutes or until water is absorbed into rice (tilt saucepan to check). Do not stir or remove lid during cook time. Remove from stove but leave lid on, leave for 10 minutes. Fluff with fork. Refrigerate or freeze (for use in fried rice). If it's an emergency, cook the rice per above, spread on a tray and refrigerate until cold, then proceed with recipe.
4. Chinese cooking wine or Mirin (or cooking sake or dry sherry) is an essential ingredient for making a truly "restaurant standard" fried rice. Though many recipes suggest using liquid chicken broth, please do not do this - it makes your fried rice wet and gluey!
If you can't consume alcohol, adjust recipe as follows: Reduce oyster and soy sauce to 2 tsp each, and add 1 tbsp water to the Sauce. Proceed with recipe. When you add the rice, add 1/2 tsp chicken or vegetable stock powder (or bouillon cube crumbled). Stir through, then add remaining Sauce ingredients exc the Cooking wine. Proceed with recipe, add tiny sprinkle of salt at end if you want it saltier.
5. Soy sauce - Any soy sauce is fine here (but not sweet or flavoured). I like dark soy because it adds colour.
6. SKILLET: If using a skillet, add about 1/2 tbsp extra oil at the start to compensate for larger cooking surface. Also, if you use a large skillet, you can scale up the recipe by 50% - click on the Servings number and slide the scaler until the rice becomes 3 cups, it will change all the ingredients. Once you add the rice, use 2 wooden spoons to toss it - makes up for not having the high walls of a wok.
Adapted from RecipeTin Eats
NoMayo https://nomayo.us/