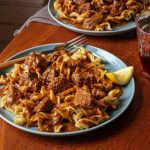 Goulash
2019-11-19 17:10:19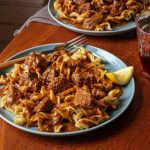 Nutrition Facts
Amount Per Serving
* Percent Daily Values are based on a 2,000 calorie diet. Your Daily Values may be higher or lower depending on your calorie needs.
Ingredients
2 teaspoons unsalted butter
2 medium onions, peeled and thinly sliced
2 tablespoons sweet Hungarian paprika
1 teaspoon caraway seeds
1 pound beef stewing meat, trimmed and cut into 1-inch cubes
¼ cup all-purpose flour
2 cups beef broth, homemade or low-sodium canned
1 tablespoon fresh lemon juice
2 teaspoons salt, plus more to taste
¼ teaspoon freshly ground pepper
Instructions
Melt the butter in a large pot over medium heat. Add the onions and cook, stirring frequently, until wilted, about 10 minutes. Stir in the paprika and caraway seeds and cook 1 minute more. In a bowl, toss the beef with the flour to coat well. Add the beef to the onion mixture. Cook, stirring, for 2 minutes.
Add 1/2 cup of the broth, stirring and scraping the bottom of the pot. Gradually stir in the remaining broth. Bring to a boil, then reduce to a slow simmer. Cover and cook until the beef is tender, about 1 1/2 hours. Stir in the lemon juice, salt and pepper to taste. Serve over wide egg noodles.
Adapted from New York Times
Adapted from New York Times
NoMayo https://nomayo.us/