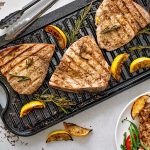 Grilled Swordfish
2018-04-03 14:25:53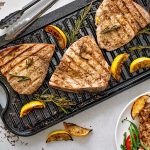 Nutrition Facts
Amount Per Serving
* Percent Daily Values are based on a 2,000 calorie diet. Your Daily Values may be higher or lower depending on your calorie needs.
Ingredients
4-8oz swordfish steaks
3oz dry white wine
1 1/2 T lemon juice
4 ripe tomatoes, peeled, seeded and chopped
1 T fresh basil, chopped
4 T butter
2 cloves garlic, minced
Salt and pepper to taste
Instructions
Heat the wine and lemon juice in small saucepan and reduce by half
Add the tomatoes, garlic and basil, bring to boil and whisk in butter
Add salt and pepper
Lightly oil each fillet and place on grill, turning as needed
Serve with tomato-garlic sauce
Notes
As of publishing (4/18) I haven't attempted this recipe.
NoMayo https://nomayo.us/