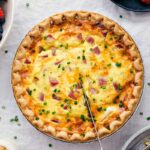 Ham & Cheese Quiche
2022-11-02 16:43:05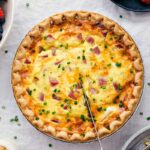 Nutrition Facts
Amount Per Serving
* Percent Daily Values are based on a 2,000 calorie diet. Your Daily Values may be higher or lower depending on your calorie needs.
Ingredients
1 (9-inch) refrigerated pie crust
3 eggs
3⁄ 4 cup half & half
1 cup ham, cut into small pieces
1 cup (4-ounces) shredded Gruyère cheese
5oz frozen spinach (optional)
Instructions
Preheat oven to 450°F.
Press pie crust into 9-inch tart pan with removable bottom, tucking excess pie crust down the sides. Pierce well with a fork. Freeze for at least 15 minutes.
While pie crust is in the freezer, whisk together the eggs, half & half, ham and cheese. Set aside.
Remove pie crust from freezer. Line the frozen pie crust with crumpled parchment paper and fill with dried beans or another type of pie weights. Bake at 450°F for 25 minutes.
Remove the parchment paper and dried beans. If any cracks have formed, brush with some of the egg/half & half custard. Return crust to the 450°F oven for another 5 minutes or until the bottom of the crust is lightly browned.
Reduce oven heat to 375° F. Pour ham and cheese filling into prepared pie crust.
Bake at 375°F for 25 minutes, or until quiche is nice and puffy.
Allow to cool 10 minutes before serving. If desired, sprinkle with minced fresh
parsley.
NoMayo https://nomayo.us/