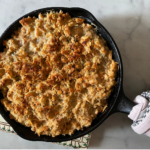 Tuna Casserole
2020-06-08 13:48:34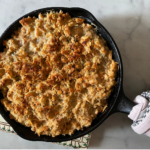 Nutrition Facts
Amount Per Serving
* Percent Daily Values are based on a 2,000 calorie diet. Your Daily Values may be higher or lower depending on your calorie needs.
Ingredients
2 cans (14.5-oz) of white beans, rinsed and drained
1/2c white wine (Can substitute with water or broth; point is to moisten ingredients)
1 onion (or shallots, scallions or leeks) - chopped
Pinch of red-pepper flakes
Fresh ground pepper
Fresh herbs (fennel fronds are suggested)
Pinch of salt
6 garlic cloves, sliced
1/4c milk
2 cans of tuna (If oil-packed, add the oil. If water-packed, drain and drizzle in more olive oil)
2-4 TB grated gruyere (Parmesan, Jarlsberg or cheddar is okay too)
Zest from half-lemon
Olive oil
Crushed potato chips
1TB butter
Instructions
In an ovenproof skillet, sauté a chopped onion (or shallots, scallions or leeks) in olive oil over medium-high heat until soft, about 5 minutes. Add a pinch of red-pepper flakes, a pinch of salt and lots of sliced garlic cloves.
When the garlic is slightly golden and very fragrant, add white beans and white wine.
Let it simmer until the liquid evaporates and the beans are soft, about 5 minutes, then mash the beans with a potato masher or a fork. Make them as smooth or lumpy as you like. You just want to release some of their starch. Turn off the heat.
Add 1/4 cup milk and 2 cans of tuna.
Mash the tuna into the beans, leaving it a little chunky. Mix in a tablespoon or two of chopped fresh herbs, grated zest from half a lemon and lots of black pepper.
Finally, mix in 2 to 4 tablespoons grated any kind of cheese.
Taste and add more salt and pepper if needed.
Spread the mixture evenly in the skillet, and top it with about a cup of potato chips that either you or your bored child crushed with a rolling pin. Scatter on more grated cheese, about another 2 tablespoons, and dot the top with, as Ms. Henry says, little nuggets of butter. She and I both agree that 1 tablespoon will do it.
Bake at 350 degrees, until the tuna mixture bubbles around the edges, 20 to 25 minutes. If you want the potato chips to get more brown, you could run the whole pan under the broiler.
Adapted from NYT Cooking
Adapted from NYT Cooking
NoMayo https://nomayo.us/