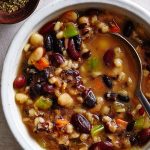 Hearty Bean and Barley Soup
2018-02-08 19:39:27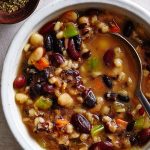 Nutrition Facts
Amount Per Serving
* Percent Daily Values are based on a 2,000 calorie diet. Your Daily Values may be higher or lower depending on your calorie needs.
Ingredients
7 cups fat-free, low-sodium chicken broth
1/4 tsp. crushed red pepper
6 garlic cloves, crushed
2 (4-inch) rosemary sprigs (I just used dried rosemary)
1 (19 ounce) can dark red kidney beans, rinsed and drained (I use 2 normal size cans)
2 tsp. olive oil
1 cup chopped onion
1 cup finely chopped carrot
1/4 cup chopped celery (I use a whole cup)
1 (14-1/2 ounce) can diced tomatoes, undrained
1 cup uncooked quick-cooking barley
10 cups torn spinach leaves (about 4 ounces) (I used 1/2 bag of spinach)
1/4 tsp freshly-ground black pepper
1/2 cup (2 ounces) grated fresh Parmesan cheese
Instructions
Bring first 4 ingredients to boil in a Dutch oven; reduce heat to medium-low, and cook 15 minutes. Drain through a sieve into a large bowl; discard solids
Measure 1 cup beans and mash with a fork in a small bowl. Reserve the remaining whole beans.
Heat oil in pan over medium heat. Add onions, carrot, and celery; cook 4 minutes. Add broth
Mixture, mashed beans, whole beans, tomatoes, and barley. Bring to a boil. Reduce heat; simmer 15 minutes. Stir in spinach and black pepper; cook 5 minutes or until barley is tender. Sprinkle each serving with cheese.
NoMayo https://nomayo.us/