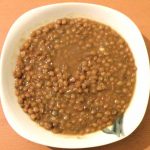 Greek Lentil Soup
2018-02-08 19:36:48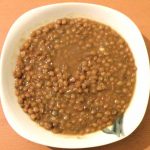 Nutrition Facts
Amount Per Serving
* Percent Daily Values are based on a 2,000 calorie diet. Your Daily Values may be higher or lower depending on your calorie needs.
Ingredients
2 c. uncooked lentils
8 c. water or vegetable stock
(I use Carmel Kosher Soup Base, Chicken Style --it's a completely vegetarian powder)
1/2 onion, chopped
1 small carrot, chopped
1 celery stalk, chopped
1 small potato, chopped
2 Tablespoons oil
2 bay leaves
1-1/2 to 2 teaspoons salt
2 teaspoons vinegar (I use lemon juice)
Instructions
Mix all ingredients, except vinegar (lemon), in a soup pot and cook until the lentils are very soft--about 1 hour.
Add vinegar (lemon) at the end and serve.
Makes about 8 cups.
Notes
I've seen recipes that called for 2t cumin. Might be an interesting add.
NoMayo https://nomayo.us/