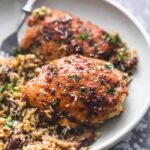 Instant Pot Chicken Cacciatore
2020-09-10 11:00:59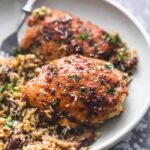 This isn't a true cacciatore by any measure, but it's a tasty chicken-rice dish. It's a good idea to watch the video first.
Nutrition Facts
Amount Per Serving
* Percent Daily Values are based on a 2,000 calorie diet. Your Daily Values may be higher or lower depending on your calorie needs.
Ingredients
4 boneless, skinless chicken breasts
Salt and pepper, to taste
1 tablespoon oil
1 small yellow onion, finely diced
2 cups sliced mushrooms
2 garlic cloves, minced
1 cup white rice
One 15-ounce can diced tomatoes
1 cup low-sodium chicken broth
2 tablespoons Italian seasoning
4 cups baby spinach
2 tablespoons freshly grated Parmesan
Instructions
Preheat the "Saute" function on the Instant Pot to its highest setting. Sprinkle the chicken with salt and pepper. Once the display reads "Hot," add the oil and heat it for 30 seconds. Arrange the chicken, seasoned-side down, in the Instant Pot. Cook until the chicken becomes golden and releases easily, about 5 minutes. Flip the chicken and cook for an additional 4 minutes. Using tongs, remove the chicken to a plate and set aside.
Add the onion and mushrooms and cook, stirring often, until they begin to soften, 5 minutes. Add the garlic and cook for an additional 30 seconds. Add the rice, tomatoes, chicken broth and Italian seasoning. Season with salt and pepper and stir. Return the chicken to the Instant Pot.
Place the lid on the Instant Pot and lock it in place. Set the "Meat & Stews" function for 10 minutes. It will take time for the Instant Pot to come to full pressure. The 10 minutes will begin then.
Once the cook cycle is complete, carefully release the pressure using the quick-release valve and remove the lid. Using an instant-read thermometer, check that the chicken has reached at least 165 degrees F. (If it has not, set the "Meat & Stews" setting for another 3 to 5 minutes.)
Serve immediately on a bed of baby spinach and top with the Parmesan. Serve immediately or chill and enjoy cold. Leftovers keep, covered, in the refrigerator for up to 3 days or frozen for up to 3 months.
Adapted from Food Network
NoMayo https://nomayo.us/