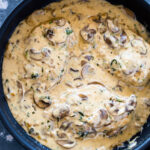 Creamy Garlic Parmesan Mushroom Chicken
2021-12-16 17:51:45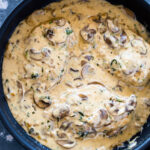 I made this 12/2021 and it was excellent.
Nutrition Facts
Amount Per Serving
* Percent Daily Values are based on a 2,000 calorie diet. Your Daily Values may be higher or lower depending on your calorie needs.
Ingredients
1 lb boneless skinless chicken breasts or about 2-3 medium chicken breasts
1 teaspoon garlic powder
1 teaspoon oregano or Italian seasoning
salt and pepper to taste
2 tbsp unsalted butter
1 tablespoon olive oil
8 oz baby Bella mushrooms
1/4 cup onion minced
3-4 cloves garlic minced
1 cup heavy cream (or light cream, or half & half)
1/4 cup freshly grated parmesan cheese
2 tablespoons fresh herb of choice optional
1/2 cup dry white wine (not in original recipe)
Instructions
Slice chicken breasts in half horizontally to make them thinner. Season both sides of chicken breasts with garlic powder, oregano, and a pinch of salt and pepper.
Heat butter and oil in over medium-high heat in a large heavy duty pan or cast iron skillet. Add chicken breasts to the pan and cook 5-6 minutes per side. I added 1/2 cup of white wine at this stage to finish the chicken. Remove chicken from pan and set aside.
To the same pan, add the mushrooms and onion to the pan and saute for 2-3 minutes or until tender. Add the garlic and a pinch of salt & pepper; saute for 1 minute or until fragrant.
Reduce heat to low and Add the heavy cream, parmesan cheese, and herbs. Simmer for 1-2 minutes or until sauce begins to thicken. Taste and add more salt if needed.
Return chicken along with its juices to the pan and cook for another 1-2 minutes. Serve with pasta, rice, salad, or veggies.
Notes
Chicken Breasts: This recipe calls for boneless, skinless chicken breasts but thinly pounded boneless, skinless chicken thighs will also work. The chicken breasts are cut in half horizontally to help the chicken cook fast and make thinner fillets.
Mushrooms: This recipe will work with just about any type of mushrooms. Sliced White, Crimini, or baby Bella mushrooms are preferred.
Onion: Finely minced onion or shallots. The recipe can do without the onions but why not? They add a nice caramelized flavor to the cream sauce.
Garlic: Lots of fresh minced or crush garlic. The recipe calls for 3-4 but I went ahead and used 5 because I'm hooked on garlic.
Heavy Cream: Aka double cream or heavy whipping cream. The recipe will also work with half & half, light cream or evaporated milk.
Parmesan Cheese: Freshly grated parmesan cheese is optional but highly recommended. You can also use pre-grated parmesan.
Herbs: A few tablespoons of fresh herbs really do take this dish to the next level. You can use parsley, chives, rosemary, dill, cilantro, or leave out the herbs all together if you don't have any on hand.
Adapted from gimmedelicious.com
NoMayo https://nomayo.us/