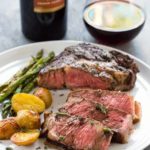 Boneless Ribeye Steak
2020-03-06 16:29:49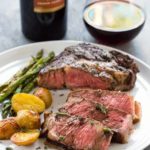 Nutrition Facts
Amount Per Serving
* Percent Daily Values are based on a 2,000 calorie diet. Your Daily Values may be higher or lower depending on your calorie needs.
Ingredients
Two 1-1/2 inch ribeye steaks
Kosher salt
1TB butter
Freshly ground pepper, to taste
Instructions
Salt steaks liberally with kosher salt one day ahead of cooking and refrigerate
Place steak on roasting tray with drip pan
Put steaks in 300º oven until it reaches internal temp of 123º (about 1 hr)
Heat a cast iron pan on the stove (with oil, if needed) on high temp
Sear 1-2 minutes on each side
Place a pat of butter on each steak and let it rest for 10 minutes
Add pepper if desired
Notes
Steak is cooked medium to medium-rare. Take it to 125º or more if you prefer more well-done.
NoMayo https://nomayo.us/