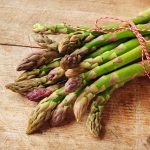 Miso Asparagus
2019-05-31 09:09:20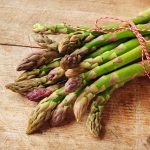 Nutrition Facts
Amount Per Serving
* Percent Daily Values are based on a 2,000 calorie diet. Your Daily Values may be higher or lower depending on your calorie needs.
Ingredients
1 pound green asparagus, trimmed
2 tablespoons sesame oil
1 tablespoon miso paste
1 tablespoon ginger, minced
2 garlic cloves, minced
2 tablespoons water
Instructions
Warm a large skillet over medium heat. Heat the sesame oil, and then add the asparagus. Cook, covered, four to five minutes, turning often, until the asparagus has browned and is tender.
While the asparagus cooks, place the miso paste, ginger, garlic and water in a small bowl and whisk thoroughly. When the asparagus is done, transfer spears to a platter and top with the miso dressing. Serve immediately.
Notes
I haven't tried this recipe (as of 6/19)
NoMayo https://nomayo.us/