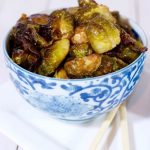 Yakitori Brussels Sprouts
2019-05-31 09:18:30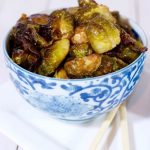 Nutrition Facts
Amount Per Serving
* Percent Daily Values are based on a 2,000 calorie diet. Your Daily Values may be higher or lower depending on your calorie needs.
Tare sauce
½ cup soy sauce
½ cup mirin
¼ cup sake
¼ cup water
2 Tbsp finely chopped onion
4 tsp sugar
2 garlic cloves
1 (½-inch) piece ginger, thinly sliced
Brussels sprouts
1 lb Brussels sprouts, trimmed and halved
1½ Tbsp canola oil
½ tsp kosher salt
Furikake (Japanese rice seasoning)
Chopped cilantro
Instructions
To prepare sauce: In a small saucepan over medium-high, combine first 8 ingredients. Bring a boil; cook 20-25 minutes or until reduced by half and thick enough to coat back of a spoon. Remove from heat; discard garlic and ginger.
Soak 6-8 wooden skewers. Preheat grill or grill pan.
Soak sprouts in a bowl of water 5 minutes. Drain; toss with oil and salt. Arrange on skewers with cut sides all facing same direction. Place cut side down on grill; cook 3-4 minutes (on grill), 7-8 minutes (in grill pan), or until charred, basting with sauce after first minute. Turn and grill 2 minutes or until cooked through. Transfer to a platter; slather with sauce. Sprinkle generously with furikake and cilantro; serve hot.
Notes
I haven't made this yet (6/19)
Briefly soaking the sprouts in water helps them steam and cook evenly on the grill. Furikake is a Japanese seasoning that typically includes black and white sesame seeds, dried fish, nori (seaweed) and a variety of other ingredients. It's used to flavor cooked rice, vegetables and fish. Look for it in Asian markets, online and even in the Asian foods aisle at some supermarkets.
NoMayo https://nomayo.us/