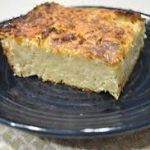 Potato Kugel
2018-03-10 15:01:31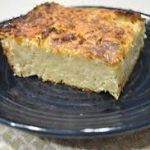 Nutrition Facts
Amount Per Serving
* Percent Daily Values are based on a 2,000 calorie diet. Your Daily Values may be higher or lower depending on your calorie needs.
Ingredients
3 pounds russet potatoes
3 eggs
1 tablespoon kosher salt
1/4 teaspoon black pepper
1 medium onion
6 tablespoons vegetable oil, plus more for greasing pan
1/3 cup flour
1/4 teaspoon baking powder
Instructions
Preheat the oven to 350, with a heavy 9-by-9-inch baking pan or 10-inch cast-iron skillet inside.
Peel the potatoes, and place them in a bowl of water.
In a large mixing bowl, beat the eggs with the salt and pepper until well combined.
Using a food processor fitted with the grating plate, grate the onion.
Drain the potatoes, then grate them. Quickly add the potatoes and onions to the eggs, and add the oil, flour and baking powder. Mix well. (You can also grate by hand; if you do so, grate the potatoes directly into the eggs and oil, and stir them frequently to coat. This helps slow their browning while you keep grating.)
Remove the pan from the oven, and slick it with oil. Carefully but quickly add the potato mixture, smoothing it out so that it is as even as possible.
Bake for 2 hours, or until the kugel is creamy in the center and the whole top is a rich, crunchy brown.
NoMayo https://nomayo.us/