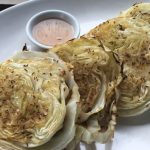 Roasted Cabbage Steaks
2018-03-10 13:59:30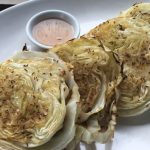 Nutrition Facts
Amount Per Serving
* Percent Daily Values are based on a 2,000 calorie diet. Your Daily Values may be higher or lower depending on your calorie needs.
Ingredients
1 medium head cabbage
Vegetable oil cooking spray
1 tablespoon canola oil
½ teaspoon caraway seeds
½ teaspoon garlic powder
¼ teaspoon salt
⅛ teaspoon black pepper
1 tablespoon brown sugar
2 tablespoons golden balsamic vinegar
Instructions
Preheat oven to 400 degrees.
Cut bottom of core off cabbage head, placing flat end on cutting board. Cut cabbage head into 6, 1/2–inch slices (steaks) and arrange in a single layer on a large sheet pan coated with cooking spray.
Brush top of each cabbage steak with oil.
Using a mortar and pestle, crush caraway seeds, leaving some whole if desired. Add garlic powder, salt, pepper, and brown sugar and stir.
Sprinkle spice mixture over cabbage steaks.
Place in oven and roast 30 to 40 minutes, or until cabbage is tender and begins to caramelize. Transfer steaks to a serving dish and drizzle with vinegar.
Notes
When selecting cabbage, choose a head that is heavy for its size with firmly packed, fresh crisp leaves. Avoid those that are dull or have withered leaves, brown spots or other blemishes. Store it in the refrigerator, unwashed and tightly wrapped in plastic, for about one week.
The spice blend we created for our cabbage steaks features caraway seed. Commonly found in German, Austrian, and Hungarian cuisines, caraway seed is a versatile spice used in both savory and sweet dishes.
While ground caraway is fine to use in today's recipe, we started with whole seeds and crushed them using a mortar and pestle. This allowed us to leave some seeds whole, providing a nice texture to the spice topping.
If caraway seeds are missing from your spice rack, substitute fennel seeds. And, if you don't have golden balsamic vinegar, cider vinegar will do.
Adapted from Free Press Test Kitchen
Adapted from Free Press Test Kitchen
NoMayo https://nomayo.us/