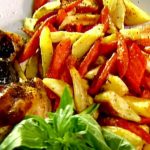 Roasted Carrots and Parsnips with Herbs
2018-03-13 15:23:31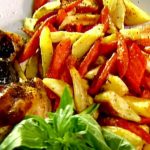 Serves 8
Nutrition Facts
Amount Per Serving
* Percent Daily Values are based on a 2,000 calorie diet. Your Daily Values may be higher or lower depending on your calorie needs.
Ingredients
6 parsnips
7 carrots
1/4 cup olive oil
1 1/2 teaspoons salt, or to taste
1 teaspoon freshly ground black pepper, or to taste
1 tablespoon freshly chopped rosemary
1 tablespoon freshly chopped sage
Instructions
Preheat the oven to 350 degrees. Peel the parsnips and carrots. Cut them into chunky pieces roughly 2 inches long and 3/4-inch thick. All the pieces should be of uniform size and shape. Toss the parsnips and carrots with the oil, salt, pepper, rosemary and sage in a large bowl.
Spread in a large, shallow baking pan. Roast the vegetables in the lower one-third of the oven until tender, about 30-35 minutes.
Notes
From "Gourmet Meals in Minutes," by the Culinary Institute of America (Lebhar-Freidman, $40). Tested by Susan M. Selasky for the Free Press Test Kitchen. 130 calories (48% from fat), 7 grams fat 1 gram sat. fat), 16 grams carbohydrates, 1 gram protein, 460 mg sodium, 0 mg cholesterol, 3 grams fiber
NoMayo https://nomayo.us/