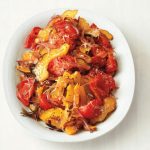 Roasted Squash and Tomatoes
2019-01-31 15:43:34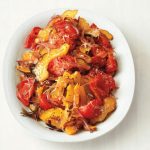 Nutrition Facts
Amount Per Serving
* Percent Daily Values are based on a 2,000 calorie diet. Your Daily Values may be higher or lower depending on your calorie needs.
Ingredients
1 small acorn squash
2 medium tomatoes
1 sliced small red onion
2 smashed garlic cloves
1 sprig rosemary
2 tablespoons olive oil
1 tablespoon balsamic vinegar
Salt and pepper.
Grated parmesan.
Instructions
Halve, seed and thinly slice 1 small acorn squash; cut 2 medium tomatoes into wedges. Toss the squash and tomatoes with 1 sliced small red onion, 2 smashed garlic cloves, 1 sprig rosemary, 2 tablespoons olive oil, 1 tablespoon balsamic vinegar, and salt and pepper. Roast at 425 degrees F, stirring once, until tender, 40 minutes. Toss with grated parmesan.
Notes
I haven't tried this (1/31/19)
Adapted from Food Network
Adapted from Food Network
NoMayo https://nomayo.us/