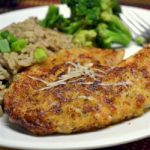 Parmesan Crusted Tilapia Fillets
2019-01-31 16:03:36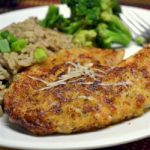 Nutrition Facts
Amount Per Serving
* Percent Daily Values are based on a 2,000 calorie diet. Your Daily Values may be higher or lower depending on your calorie needs.
Ingredients
4 tilapia fillets
olive oil
3/4 cup grated Parmesan cheese
2 teaspoons paprika
1 tablespoon chopped fresh parsley
Salt and ground black pepper to taste
Instructions
Preheat oven to 400 degrees F (200 degrees C). Line a baking sheet with aluminum foil.
Whisk Parmesan cheese, paprika, parsley, salt, and pepper together in a shallow dish.
Coat tilapia fillets with olive oil and press into the Parmesan cheese mixture. Arrange coated fillets on the prepared baking sheet.
Bake in preheated oven until the fish flakes easily with a fork, 10 to 12 minutes.
Adapted from allrecipes.com
Adapted from allrecipes.com
NoMayo https://nomayo.us/