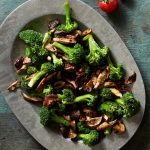 Sautéed Broccoli and Mushrooms
2018-03-14 10:58:13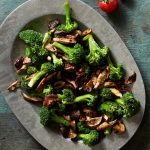 Serves 6
Nutrition Facts
Amount Per Serving
* Percent Daily Values are based on a 2,000 calorie diet. Your Daily Values may be higher or lower depending on your calorie needs.
Ingredients
1 tablespoon olive oil
4 cups sliced mushrooms
1/4 cup sliced shallot
1/4 cup dry sherry
4 cups broccoli florets
1/2 teaspoon kosher salt
crushed red pepper flakes
1/2 cup reduced-sodium fat-free chicken broth
1/4 teaspoon fresh ground black pepper
Slivered & toasted almonds or toasted cashews
Instructions
Heat oil in a large Dutch oven over medium-high heat.
Add mushrooms and shallots to pan; sauté 10 minutes or until mushrooms are lightly browned.
Stir in sherry; cook 2 minutes or until liquid evaporates, stirring frequently.
Add broccoli and salt to pan; stir well.
Stir in broth & red pepper flakes; bring to a boil.
Cover and cook 5 minutes or until broccoli is crisp-tender.
Stir in black pepper, if using, and toasted slivered almonds or toasted cashews.
NoMayo https://nomayo.us/