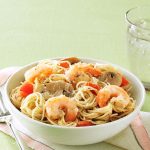 Shrimp Mushroom Pasta
2018-03-27 14:35:56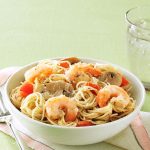 Nutrition Facts
Amount Per Serving
* Percent Daily Values are based on a 2,000 calorie diet. Your Daily Values may be higher or lower depending on your calorie needs.
Ingredients
8 ounces uncooked angel hair pasta
1/2 pound sliced fresh mushrooms
1 medium onion, chopped
1/3 cup olive oil (I used half of this amount)
4 garlic cloves, minced
1 pound uncooked medium shrimp, peeled and deveined
1/2 cup chicken broth
1 tablespoon Italian seasoning
1/2 teaspoon salt
1/4 teaspoon pepper
2 plum tomatoes, chopped
1/2 cup grated Romano cheese, divided
1 tablespoon butter
Instructions
Cook pasta according to package directions. Meanwhile, saute mushrooms and onion in oil in a large skillet until tender. Add garlic; cook 1 minute longer.
Add the shrimp, broth and seasonings. Bring to a boil. Reduce heat; cook and stir for 4-5 minutes or until sauce is slightly thickened and shrimp turn pink.
Stir in the tomatoes, 1/4 cup cheese and butter. Drain pasta; toss with shrimp mixture. Sprinkle with remaining cheese. Yield: 5 servings.
Notes
I tried this and it is DEEl-lish. I used half as much oil as it called for.
NoMayo https://nomayo.us/