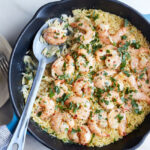 Shrimp Scampi With Orzo
2020-06-09 13:55:02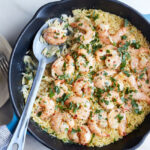 Nutrition Facts
Amount Per Serving
* Percent Daily Values are based on a 2,000 calorie diet. Your Daily Values may be higher or lower depending on your calorie needs.
Ingredients
1 pound large shrimp, peeled and deveined
3 tablespoons extra-virgin olive oil
1 tablespoon lemon zest, plus 1 tablespoon juice (from 1 lemon)
½ teaspoon red-pepper flakes
Kosher salt and black pepper
4 garlic cloves, minced
2 tablespoons unsalted butter
1 cup orzo
⅓ cup dry white wine
2 cups boiling water, seafood stock or chicken stock
3 tablespoons finely chopped parsley
Instructions
In a medium bowl, stir together shrimp, 1 tablespoon olive oil, lemon zest, red-pepper flakes, 1/2 teaspoon salt, 1/4 teaspoon pepper and half the garlic. Set aside to marinate. (This step can be done up to 1 hour in advance.)
Add butter, remaining olive oil and remaining garlic to a medium skillet set over medium heat. When the butter starts to bubble, add the orzo and 1/2 teaspoon salt and cook, stirring often, until the orzo is toasted, about 2 minutes, adjusting the heat as necessary to prevent the garlic from burning. Carefully add the wine — it will bubble — and stir until absorbed, about 1 minute. Stir in water, reduce heat to low, cover, and cook until orzo is al dente, about 12 minutes.
Add the shrimp in a snug, even layer on top of the orzo, cover, and cook until all the shrimp is pink and cooked through, 2 to 4 minutes. Remove from heat and let sit, covered, 2 minutes.
Sprinkle with parsley and lemon juice, season with salt and pepper, and serve immediately.
Adapted from NYT Cooking
Adapted from NYT Cooking
NoMayo https://nomayo.us/