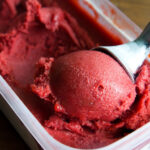 Basic Fruit Sorbet
2020-06-08 14:04:09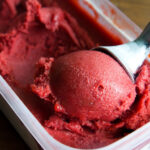 Nutrition Facts
Amount Per Serving
* Percent Daily Values are based on a 2,000 calorie diet. Your Daily Values may be higher or lower depending on your calorie needs.
Ingredients
16 oz can of fruit, preferably in heavy syrup
Instructions
Place can in freezer for at least 12 hours
Remove from freezer, briefly dip in hot water, then remove top. Pour any juices in to food processor
Remove bottom of can and push the fruit on to cutting board.
Cut into 1-inch cubes, put into the food processor and puree using regular blade
Serve at once or freeze in a container for 2 hours to firm up
VARIATIONS
Apricot and Amaretto - freeze 16 oz canned apricots. Process with 2 oz Amaretto
Pina Colada: Freeze 20oz crushed pineapple. Process with 3TB run and 6oz chilled cream of coconut
Black Forest Sundae - Freeze 16 oz pitted cherries and process to make sorbet. Firm up in freezer. Scoop into individual dishes, drizzle with chilled bittersweet chocolate sauce and top with whipped cream* (*added despite author's personal preferences)
Peach Frozen Yogurt - Freeze an individual container of peach yogurt, add 8-10 oz canned peaches. Process both together.
Tomato Sorbet - Freeze 16oz can San Marzano tomatoes. Process with juice of 1 lime and salt and ground pepper to taste. Garnish with fresh basil.
Adapted from NYT
Adapted from NYT
NoMayo https://nomayo.us/