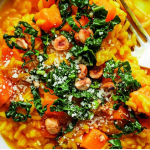 Squash Risotto with Tuscan Kale
2018-10-26 13:23:01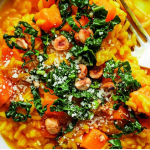 Nutrition Facts
Amount Per Serving
* Percent Daily Values are based on a 2,000 calorie diet. Your Daily Values may be higher or lower depending on your calorie needs.
Ingredients
Risotto
8 cups (2 L) chicken broth
1/2 tsp saffron threads
4 cups (600 g) butternut squash, peeled and cut into large dice
1 onion, chopped
2 garlic cloves, chopped
3 tbsp butter
2 cups (420 g) arborio or carnaroli rice
1 cup (250 mL) white wine
1 cup (70 g) Parmesan cheese, freshly grated
Kale
2 garlic cloves, chopped
2 tbsp (30 mL) olive oil
1/2 lb (225 g) Tuscan kale, finely chopped (see note)
1/4 cup (35 g) blanched hazelnuts, roasted and roughly chopped
Instructions
Risotto
In a pot, bring the broth to a boil. Add the saffron. Keep warm.
In a large pot over medium-high heat, soften the squash, onion and garlic in half of the butter. Add the rice and cook for 1 minute, stirring to coat well. Add the wine and reduce until almost dry.
Over medium heat, add the broth mixture, about 1 cup (250 millitres) at a time, stirring frequently until the liquid is completely absorbed before adding more broth. Season with salt and pepper. Cook for 18 to 22 minutes or until the rice is al dente. Add more broth, if needed.
Off the heat, add the cheese and the remaining butter. Stir until creamy. Adjust the seasoning.
Kale
In a skillet over medium-high heat, lightly brown the garlic in the oil. Add the kale and cook for 3 minutes, stirring constantly. Season with salt and pepper.
Serve the risotto topped with the kale and hazelnuts. Garnish with cheese, if desired.
Notes
I haven't tried this yet. 10/2018
Adapted from Toronto Star
Adapted from Toronto Star
NoMayo https://nomayo.us/