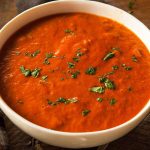 Tomato Soup
2018-02-08 20:33:27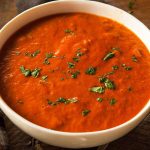 Nutrition Facts
Amount Per Serving
* Percent Daily Values are based on a 2,000 calorie diet. Your Daily Values may be higher or lower depending on your calorie needs.
Ingredients
3 cups fresh or canned tomatoes
1 medium onion
2 stalks celery
1 tablespoons oil or margarine
1 carrot
Seasonings
3/4 teaspoons oregano
1-1/2 teaspoons basil
1 quart hot vegetable stock (faux chicken is good too)
1-1/2 teaspoons salt
Pepper to taste
Instructions
Chop the tomatoes into small pieces if you don't mind including the skins, or simply rub them over a grater to get the juice and pulp. Chop the onion and celery and grate the carrot.
Sauté the onion along with the celery and carrot. Cook these vegetables until the onion is soft.
Add oregano, basil, and tomatoes to the pot and simmer gently for 15 minutes. At this point, if you want a smooth, creamy texture, puree the soup in a blender or food mill.
Add the hot stock and bring the soup to a boil. Simmer on low heat for 5 minutes. Season with salt and pepper.
NoMayo https://nomayo.us/