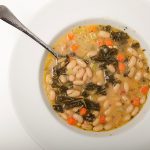 Tuscan Bean Soup
2018-02-08 20:37:46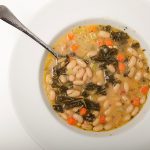 Nutrition Facts
Amount Per Serving
* Percent Daily Values are based on a 2,000 calorie diet. Your Daily Values may be higher or lower depending on your calorie needs.
Ingredients
1 tablespoon olive oil
2 cups finely chopped onion
5 garlic cloves, minced
2 cups organic vegetable broth or chicken broth
1 cup water
1 teaspoon chopped fresh rosemary
2 (15-ounce) cans no-salt-added Great Northern beans, rinsed and drained
2 fresh thyme sprigs
1 (1 1⁄2- ounce) piece Parmigiano- Reggiano cheese rind
8 cups chopped escarole (about 1 pound) (can substitute chard, spinach or kale)
1 cup chopped carrot
1⁄ 2 teaspoon crushed red pepper
1⁄ 4 teaspoon salt 1⁄ 4 teaspoon freshly ground black pepper
1 teaspoon white wine vinegar
6 tablespoons shaved fresh Parmesan cheese
Jarred pesto for garnish (optional)
Instructions
Heat a large Dutch oven over medium-high heat. Add oil to pan; swirl to coat. Add onion, and saute for 4 minutes, stirring frequently. Add garlic, and saute for 30 seconds. Add broth and the next 5 ingredients (through cheese rind); bring to a boil.
Reduce heat, and simmer 10 minutes. Stir in escarole and carrot; cover and simmer for 15 minutes or until carrot is tender.
Stir in red pepper, salt, black pepper and vinegar. Remove and discard rind; sprinkle soup with shaved cheese and a dollop of pesto if desired.
Adapted from Recipe adapted from myrecipes.com and Kate Lawson.
Adapted from Recipe adapted from myrecipes.com and Kate Lawson.
NoMayo https://nomayo.us/