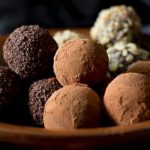 Truffles
2018-04-04 17:58:54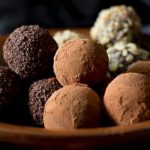 Nutrition Facts
Amount Per Serving
* Percent Daily Values are based on a 2,000 calorie diet. Your Daily Values may be higher or lower depending on your calorie needs.
Ingredients
8 oz. grated semi-sweet chocolate, plus an additional 8 oz. if you choose to dip the truffles
1 cup whipping cream
1t cognac, Grand Marnier, or other liqueur (optional)
Cocoa
Confectioners sugar (optional)
Chopped nuts (optional)
Instructions
Heat water in double boiler until it is hot, but do not allow it to boil.
Melt 8 ounces of the chocolate in the double boiler. Once the chocolate has melted, remove it from heat. Meanwhile, warm cream until lukewarm in a small saucepan. Slowly dribble the warmed cream into the melted chocolate, mixing them together with a whisk or an electric mixer on low speed. Add liqueur, if desired. When cream is completely incorporated, increase mixing speed to high. Keep beating until.mixture thickens and forms soft peaks. Refrigerate for 15 minutes.
Remove mixture from refriger­ator. Spread a generous layer of cocoa on a tray or other smooth work surface. Scoop out one teaspoon at a time of the chocolate mixture and roll it into the cocoa. When completely coated, pick up each scoop and roll in your hands to form a ball.
At this point,you may choose several variations for your truffles. The truffles can be rolled in cocoa a second time or rolled in confec­tioners sugar, chopped nuts, or dipped in melted chocolate which will harden as it cools.
If you wish to dip the truffles in melted chocolate, roll the milk chocolate centers only once in co­coa. Melt two ounces of the re­served chocolate in double boiler and slowly add the remaining chocolate stirring until completely melted. For best results, chocolate should not be heated above 90º Remove from heat. Using a spoon, gently dip each truffle in chocolate and roll until well coated with the melted choco­late. If chocolate is too thick for dipping, thin with a few table­spoons of melted butter. Transfer truffles to wax paper to dry.
Adapted from Freep 1978
Adapted from Freep 1978
NoMayo https://nomayo.us/