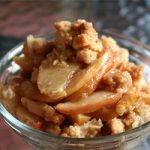 Apple Crisp
2018-03-22 18:49:27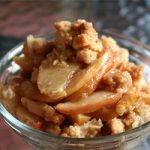 Nutrition Facts
Amount Per Serving
* Percent Daily Values are based on a 2,000 calorie diet. Your Daily Values may be higher or lower depending on your calorie needs.
Ingredients
4 medium cooking apples
3/4 cup packed brown sugar (I'd use less)
1/2 cup all-purpose flour
1/2 cup quick cooking or old fashioned oatmeal
1/3 cup butter, softened
3/4 teaspoon ground cinnamon
3/4 teaspoon ground nutmeg
Instructions
Heat oven to 350 degrees.
Grease bottom and sides of an 8-inch square pan with shortening.
Spread apples in pan.
In medium bowl, stir remaining ingredients until well mixed; sprinkle over apples.
Bake about 30 minutes or until the topping is golden brown and apples are tender when pierced with a fork.
Serve warm---with ice cream, if desired....no need to say anything more!
NoMayo https://nomayo.us/